Neeraj Lalwani, M.D., DABR, FSAR
Associate Professor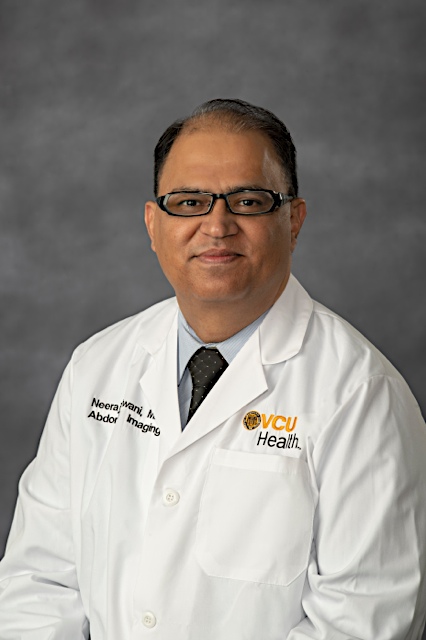 Department: Radiology
Phone: (804) 828-3151
Email: neeraj.lalwani@vcuhealth.org
Address/Location:
Main Hospital
SUMMARY
Dr. Lalwani, is an expert in gastrointestinal imaging and body MRI with a specific interest in hepatopancreaticobiliary and pelvic imaging. Previously, he has served as the Associate Professor of Radiology at Wake Forest University and Baptist Medical Center and Assistant Professor of Radiology and director of gastrointestinal radiology at the University of Washington, Seattle.
Dr. Lalwani is an established academician and researcher in the field of abdominal radiology and has received most coveted ARRS Figley Fellowship award (2019) and RSNA Honored Educator award (2020). He has published extensively in highly influential journals. He serves as section editor (radiology) for the Wolters Kluwer's reputable journal Medicine®. Till date, he has authored more than 50 peer reviewed articles and book chapters, and presented about 70 abstracts or educational exhibits in national/international conferences. He has delivered multiple invited talks, oral presentations and educational exhibits at national and international conferences and won numerous awards for his presentations.
Dr. Lalwani serves as a reviewer for multiple top-level radiology journals including Radiographics, American Journal of Roentgenology, and Abdominal Imaging. To date, he has been a member of several professional societies, including ARRS, RSNA and SAR.
SPECIALTY
Abdominal Imaging
Gastrointestinal Radiology
Genitourinary Radiology
INTERESTS
Abdominal and Pelvic MRI
MRI of Rectal Cancer Staging
MR Defecography
Hepatopancreatobiliary Imaging
Gastrointestinal Imaging
EDUCATION
M.D. – JLN Medical College, University of Rajasthan, Ajmer, Rajasthan, India
Residency, Diagnostic Radiology – SMS Medical College, University of Rajasthan, Jaipur, Rajasthan, India
Fellowship, Body Imaging and Nonvascular Intervention - University of Texas Health Science Center, San Antonio, TX
Fellowship, Body MRI -

University of Texas Health Science Center, San Antonio, TX

Fellowship, Vascular and Interventional Radiology - University of Texas Health Science Center, San Antonio, TX
BOARD CERTIFICATION
American Board of Radiology
Education Commission for Foreign Medical Graduates
DISTINGUISHED AWARDS
Honored Educator Award, Radiological Society of North America, 2020.
Figley Fellowship Award, American Roentgen Ray Society, 2019
Fellow, Society of Abdominal Radiology, 2019
OTHER AWARDS (Chronologically)
Certificate of Merit, Radiological Society of North America; 12/2010 - MR Anatomy and Pathology of Essentials for the Radiologist in Staging Rectal Carcinoma; 12/2010 - Typical Manifestations of Rare Causes of Acute Small Bowel Obstruction in Adults: Role of Imaging and Implications on Management; 11/2011 - Management of Hepatocellular Carcinoma: What a Radiologist Should Know in 2011; 12/2012 - Uncommon Pancreatic Neoplasms and Imitators of Pancreatic Cancer; 12/2012 - Genetics and Imaging Features of Combined Hepatocellular and Cholangiocarcinomas; 12/2013 - Point Counter Point: Controversies in Imaging the Abdomen in a Pregnant Patient; 12/2013 - When the Going Gets Tough: A Review of Gastrointestinal Motility Disorders; 12/2014 - Small Bowel Cases for Aces: Acute Small Bowel Pathologies in Adults; 12/2019 - Peritoneal Metastasis, Cytoreductive Surgery (CRS), and Hyperthermic Intraperitoneal Chemotherapy (HIPEC): What the Radiologist Should Know; 12/2019 - Should We Use Oral Contrast in CT Imaging?
Magna Cum Laude, European Society of Gastrointestinal and Abdominal Radiology, 06/2014 - The Liver Imaging Atlas: An Educational Online Resource for Liver Imaging Using a Structured Tagging Approach
Cum Laude, Radiological Society of North America, 12/2014 - Why Thyroid Surgeons Are Frustrated with Radiologists: Lessons Learned from Pre- and Postoperative Ultrasound
Radiographics Editor's Recognition Award with Distinction, 03/2015
Certificate of Merit, European Congress of Radiology 2019 - Ultrasmall Superparamagnetic Iron Oxide Enhanced Peripheral MR Lymphangiography – An Effective Method to Reduce Venous Contrast Contamination through Selective Blood Pool Suppression
Distinguished Reviewer Award, 2019 - Abdominal Radiology, Springer
PUBLICATIONS
National Library of Medicine (PubMed)