Profile of Jane Clayton, M.D., M.B.A, F.A.C.R.,
Specializes in abdominal imaging, breast imaging, and women's imaging with extensive experience in mammography, emergency radiology, and ultrasound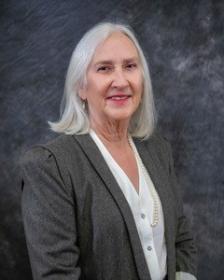 Medical Mindset Not Always The Norm For Women
Jane Clayton, M.D., M.B.A, F.A.C.R., M'77 didn't think much about a career in medicine until she was a senior in high school. It was then that Jane decided to do something where she would have independence and respect and veer away from occupations traditionally filled by women. This is when she first started thinking about medical school.

"I wanted to be in a position where I could make decisions and my decisions would be respected and taken…rather than having to have someone else direct traffic for me," says Dr. Jane Clayton

Jane absolutely loves what she does, and at times she has had three different positions working on and off since 2008 with a private practice outpatient imaging center, working ten years for a private practice at a local hospital doing breast imaging, as well as tele-radiology. Currently, she is a clinical associate professor in the Department of Radiology at Louisiana State University Health Sciences Center (LSUHSC) in New Orleans, Louisiana. The LSU Department of Radiology emphasizes team-work in addition to individual excellence. The department is a collaborative work of art.

(Portrait features Dr. Clayton. Photos courtesy: Dr. Jane Clayton)
Becoming A Radiologist, An Education Crossroads
In high school, Jane was a good student and did well in all her classes but she wasn't particularly drawn to any specific subject. When she entered Duke University, she decided to major in science and, as a conscientious and motivated student, she went on to medical school. It was during her fourth-year rotation in medical school that she determined radiology would be the best fit for her.
Jane applied to the University of Virginia (UVA), Virginia Commonwealth University School of Medicine (VCU), Eastern Virginia Medical School (EVMS), a new medical school in 1972, Duke University and Emory University. VCU, then MCV, the first school to accept her, was the one she chose to attend. Jane really liked VCU, as it was an old respected medical school. Her parents were thrilled she would be attending an in-state school, with her brother at UVA, as the two tuitions combined were less than her Duke undergraduate tuition.
Medical school presented a new and different environment. Jane remembers, "I didn't like medical school at all. I really wasn't good at it." As she explains, "I'm not a very forthcoming person and many of the medical students were outgoing and gregarious, and they earned better grades." By the time Jane was in her fourth year, she couldn't find a medical specialty that she really liked. She was quite unhappy and stressed out and was rethinking her direction. She even considered graduating from medical school and then returning to school to earn a PhD in biochemistry.
In the midst of this impasse, Jane did a rotation with Dr. Stuart Eisenberg, an Emergency radiologist at VCU. She was looking at films with him in the emergency room and he asked, "Do you know what field you are going into?" She burst into tears, surprising Dr. Eisenberg. Then, Jane explained her difficulty in finding a specialty for training. He said "Well, I've been working with you a few days this week and you have a real good eye. Why don't you consider radiology?" The tears dried up and Jane thought to herself, well okay, if he thinks I can do this then I am putting my name in the hat for radiology. She matched at the VCU Radiology residency program, relieved to have a specialty at last.
Part of her concern about a career in primary care medicine did not lie solely on her experience in medical school. It also related to the rigorous demands put on interns in internal medicine and most specialties. In those days, interns did 36 hours on and 12 hours off working more than 120 hours a week. Jane feared she would not be able to keep up with such an intense schedule. "I just didn't feel like I had it in me, to be able to give all my time to other people in terms of being an internist or any of the other specialties. She found radiology was different. It was interesting, challenging and, "I really like working with the images and I like the procedures. Perhaps, that was the difference," added Jane, who eventually specialized in Ultrasound and then Breast Imaging. Medical school may not have been an ideal experience but from it she learned a lot about herself. "I was really glad to be able to stay in medicine and radiology was a really good specialty for me," adds Jane.
Passion For Radiology Bloomed
Jane grew up in Mclean, Virginia and went to Duke University for undergraduate, then spent eight years in Richmond, Virginia for medical school and residency. Upon completion of her radiology residency program she moved to Chicago, Illinois to be close to a former boyfriend and to do a fellowship in body imaging at Northwestern University, training at Evanston Hospital. After fellowship, Jane intended to return to North Carolina or Virginia. She didn't quite make it back to North Carolina or Virginia but she blossomed as a radiologist, and over the years, she has enjoyed a few iterations of her career.
Dr. Jane Clayton's Educational Path
Fellowship, Body Imaging
Northwestern University
Evanston, Illinois
Residency, Diagnostic Radiology
Medical College of Virginia
Richmond, Virginia
Internship
Medical College of Virginia
Richmond, Virginia
Doctor of Medicine
Medical College of Virginia
Richmond, Virginia
Bachelor of Arts
Duke University
Durham, North Carolina
A Career In Radiology With Its Many Iterations
In November of her fellowship in 1981-1982, she sent letters of inquiry to various places in North Carolina and Virginia. She felt more comfortable in academics, and wanted to gain more experience and confidence so she targeted her applications to academic medical institutions. Jane notes, "This was a time when we didn't have email so I sent off several letters but I didn't get any responses. So, I thought, oh well of course they don't want me." However, in March of that same year one of the secretaries brought her some letters that were sitting in an unknown mailbox in the basement of the hospital.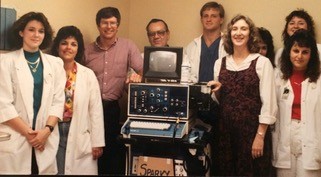 Jane opened the letters and they were all positive, requesting further conversations. Feeling absolutely relieved, she called a couple of the programs, but it was too late, they had filled the positions. She was back to square one, worried. Fortunately, the Radiology department where she worked was kind enough to offer her three more months to buy time to find a position after fellowship. She felt quite fortunate for the flexibility and offer.

One day in April 1982, she was home with a bad cold and Dr. Erich Lang, who was Chair of Radiology at LSUHSC New Orleans, called and asked if she would like to come to New Orleans, Louisiana for a job interview. Dr. Lang needed someone proficient in ultrasound to join a colleague establishing an Ultrasound section. This was her one and only offer and although she had never been to New Orleans, she jumped at the opportunity. She traveled to New Orleans for the LSU Radiology job interview and Dr. Lang offered her the job. Relieved, she accepted the position.

She was at LSU In Ultrasound for only a few months when the University of Maryland offered her a faculty position in Ultrasound. However, she didn't want to have a reputation for leaving a radiology department only after a couple months and short an ultrasound specialist. She gracefully declined the job and stayed at LSUHSC Radiology, where she did Ultrasound Imaging for ten years. Forty years later, she still lives in New Orleans, the Big Easy living up to its nickname, an easy place to live, except for the hurricanes.

At the time she was hired at LSU, Charity Hospital, LSUHSC's teaching hospital, was not a well-funded facility. The Radiology department had old equipment and limited faculty staffing, which resulted in the residency program losing accreditation and the department chair stepping down. Jane was the Acting Chairman for approximately two years, until a permanent chairman was appointed in 1992.

The new chair brought with him faculty members who did body imaging and cross-sectional imaging, so she began reading plain films and mammograms at LSU's outpatient clinic, presenting an opportunity for training and qualification for mammogram interpretation. In 1995, after the breast imaging faculty member resigned, she was offered a choice between chest imaging and breast imaging, and chose breast imaging, becoming the Section Head of Breast Imaging at LSUHSC Radiology. She continued in breast imaging for 20-25 years, working in both academic and private practice positions.

During this time, she had extra jobs which gave her the opportunities to keep up her skills in general radiology, definitely a benefit. This allowed her flexibility in case something interesting came along. For the last ten years she has practiced emergency radiology and general radiology at LSUHSC Radiology, mammography in private practice, and is an ACR Ultrasound Accreditation reviewer, with a little "tele-rad" on the side.

(Photo features Dr. Clayton to the right of the ultrasound at Charity Hospital in New Orleans circa 1988. Photo courtesy: Dr. Jane Clayton)
Teaching Brings Camaraderie
Not everyone likes working in an academic medical environment but that is not the case for Jane. She really likes the interactions with other colleagues and teaching residents. Somehow the residents are always the same age. She thrives in an environment that emphasizes collaboration, and teaching and learning through reading studies.
Jane says, "There is so much value in sharing information and there's more camaraderie than I've experienced in private practice. I just love it."
Awarded Fellow of the American College of Radiology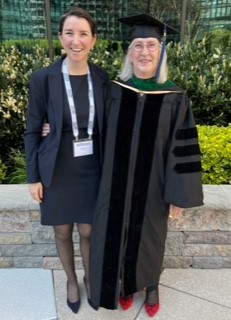 This year, Jane was awarded the distinction of Fellow of the American College of Radiology (F.A.C.R.) and for the first time in two years the American College of Radiology held an in-person convocation in Washington, DC.

Jane mentions, "I traveled to DC for the event. I got to wear a robe and hood, the whole nine yards. It was a big deal and really cool. And my daughter joined me for the celebration."

(Photo features Dr. Clayton to the right with her daughter at the F.A.C.R. ceremony in Washington, DC. Photo courtesy: Dr. Jane Clayton)
A Radiologist's World
Balancing Family and Self with a Career
Jane likes to travel and much of her travels is visiting her children. She has two children; a married daughter who recently graduated from law school and is working as a fellow with the United Nations in the Netherlands and a son who is a computer engineer living in San Francisco, California.
Jane has also spent many an hour photographing and arranging flowers, finding herself in London for the Chelsea Garden Show at the Royal Hospital Chelsea, May 24-28, 2022.
Like many radiologists, Jane's workload was changed by the COVID-19 pandemic. However, practices started functioning after lockdown ceased, and she is once again busy with reading studies. She said, "the biggest change that really happened was that I had time to go for daily walks in the early morning. I got tan and fit, and lost ten pounds." With radiology practices getting back to more normal operations, the unexpected benefits of the COVID-19 slowdown are slowly disappearing. However, Jane is more than happy to be back to her routine of interacting with colleagues and residents, and traveling again.
(Photo features Dr. Clayton with her son, Zane, and daughter, Casey at Pensacola Beach, Dec. 2018. Photo courtesy: Dr. Jane Clayton)
Learning As A Mindful Hobby
Jane loves to learn and when not in the reading room, she takes classes. She has an insatiable curiosity so the subject matter doesn't matter as much as learning something new. From photography and improvisation to explore her creativity to Deepak Chopra training in meditation, yoga and Ayurveda for self-enrichment and Tony Robbins training for a different look at personal development. She says the most memorable and beneficial were the communications classes, as she uses these skills every day and they improved her ability to read herself and others. She gleamed with pride and some element of surprise when sharing, "I reached the 100 course mark at Stanford's continuing studies program."
Feedback and Comments Welcome
Contact raddept@vcu.edu with feedback or to be featured in the VCU Department of Radiology Alumni Insights newsletter.
Find, follow, like and share the VCU Department of Radiology Facebook (opens in a new window) where we share news from the world of radiology and our Department.
The VCU Department of Radiology assumes no liability or responsibility for incorrect or incomplete information. ©2022 VCU Department of Radiology. All rights reserved. Any form of reproduction of content is strictly prohibited.