Profile of Mike Aronson, M.D., Radiologist & Electric Guitar Maker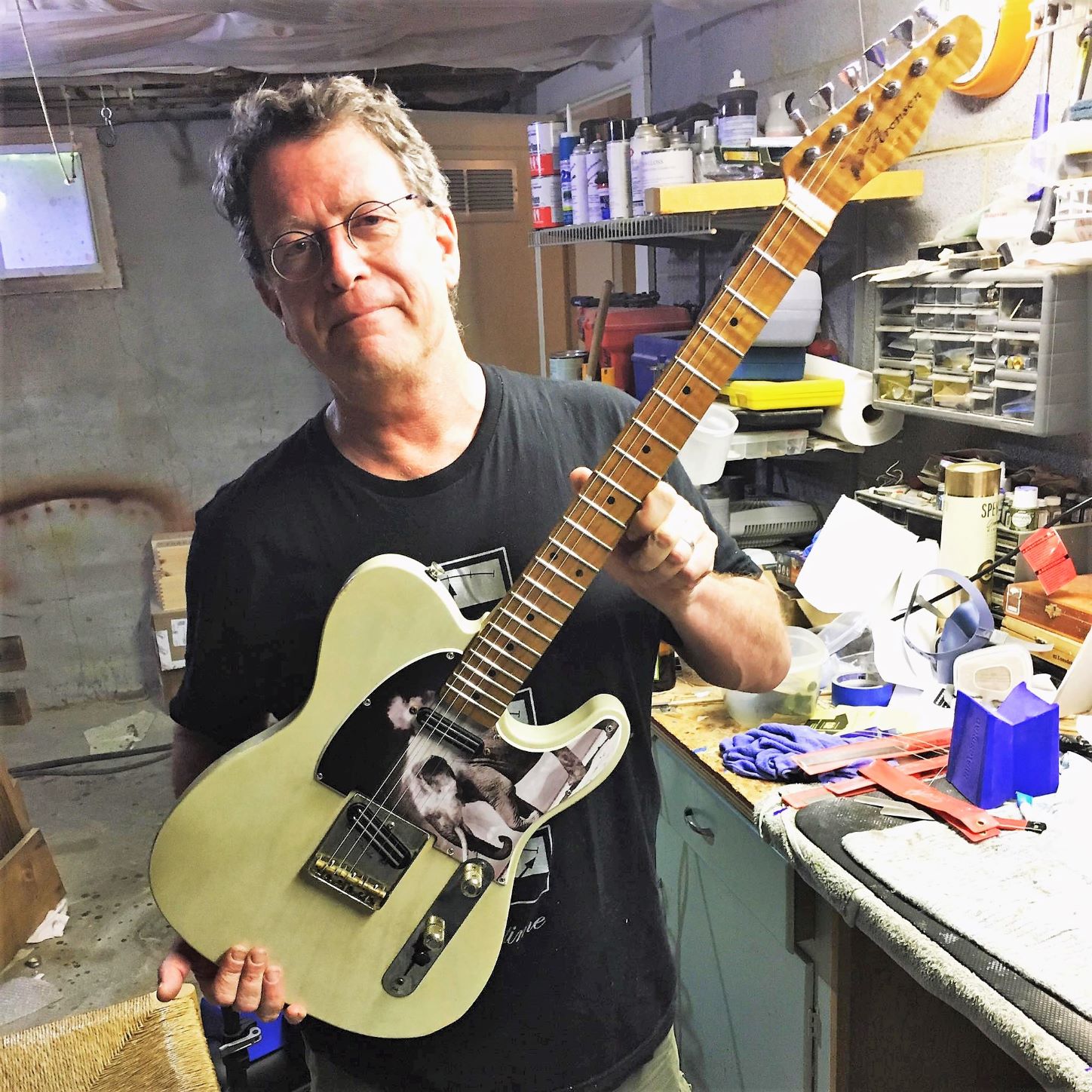 Radiologist Mike Aronson, M.D., M'89, is both passionate and relatable. He possesses the commitment to the practice of medicine but also the talent to build custom electric guitars for musicians, singers, and songwriters. His success in medicine and in the world of music is a testament to his hard work and creativity.

Graduating from high school, Dr. Aronson wanted to go to luthier school because he loved music and playing guitars. However, his father, who was a physician, didn't want to pay. So, he decided to study at a liberal arts college before drifting for a couple of years until he found his calling. It wasn't until Aronson was living in Seattle when he realized he did not like the direction of his life. "I hit rock bottom, working with really unhappy foundry workers in a brutal job. That was my wake up call, it was the moment I knew I wanted a job that motivated me to get out of bed every morning." He thought of his father and his noble work, being so worthwhile to the community, and decided to go into medicine too. "I remember that when I told my dad I wanted to go to medical school he looked at me suspiciously and asked, "What did you do with my son?""

Dr. Aronson obtained most of his medical education at VCU where he made a connection with radiology during a medical school lecture. During this lecture, a radiologist came into the classroom and started showing slides. One slide featured an air contrast barium enema and he remembers saying, "Wow, that's beautiful." His classmates laughed at him but he knew it was love at first sight. He has now been successfully practicing medicine for 26 years in southwest Virginia. With experience, he has found many other benefits to being a radiologist including the team work, sheer breadth of cases, and working with different clinicians to help them with their patients. He really enjoys communicating with people all around the hospital, noting that, "Radiology is the perfect specialty for me."

And once a physician he turned back to his love of guitars, and now, "I can have my cake and eat it too" using his professional income to fund his musical passion. Dr. Aronson began building electric guitars because he played them and he wanted to help promising musicians, especially those who are particularly gifted players. Working out of his small workshop and with a network of trusted craftspeople who provide quality components and materials to Aronson's specifications, he builds five to seven guitars a year, some taking six months to finish.

Dr. Aronson says, "building the highest quality custom electric guitars is a hobby, a passion, not labor and I'm not a luthier." A luthier is a skilled craftsman who makes and repairs guitars. He adds, "If I built acoustic guitars from scraps of wood, then I would consider myself a luthier."

During his time at VCU, Dr. Aronson used to go with friends down to the Flood Zone, a Richmond-area bar, to see a popular local band that regularly played at the venue. Between sets he would talk with the singer and tell him that he had incredible potential and would get a major label deal. The humble musician turned out to be Dave Matthews. Today, when Aronson meets a musician he thinks has that kind of potential he asks them if he can build them a guitar.

Dr. Aronson has built guitars for himself, friends, local and well-known musicians, master guitarists, and non-profit organizations, such as Habitat for Humanity, for fundraising purposes. His guitars ship across the country from Maine to California and internationally, including Bosnia, New Zealand and Sweden. He prides himself on the quality of his guitars - the parts, craftsmanship, and finishing details - working closely with each musician. Mike is confident that his guitars, Aronson Custom Guitars, are as exceptional as any of the large custom shop models. In fact, he has never received a complaint about a guitar over the fifteen years of making them.

Over the years Dr. Aronson has developed good relationships with a lot of musicians. "Because music has been such a part of my life...I know a lot about music. It's fun to talk music and learn from others," remarks Aronson.
(Above Photo: Dr. Mike Aronson in his workshop holding a custom guitar called the "White Elephant" designed for Nashville guitarist Will Jones. Photo Credit: Mike Aronson)
Dr. Aronson's Journey to Becoming a Radiologist
After graduating from his liberal arts program, Dr. Mike Aronson interviewed with two medical schools. He was attracted to VCU, his first and subsequent choice, because the school took an organ-system based approach to the medical curriculum. This approach gives students comprehensive medical knowledge, which was exactly what he wanted from a program.

During medical school, Aronson did a rotation in the radiology department. He found the residents to be a great bunch of people and he really respected the faculty, and all were happy with the program. So he was thrilled when he was offered a resident position. It was a wonderful fit and he felt really fortunate.

Dr. Aronson completed his medical school at VCU in 1989, he then completed an internship at Wake Forest before returning to VCU from 1990 to 1994 for his radiology residency and his abdominal and gastrointestinal imaging fellowship, which he finished in 1995. Today, Aronson enjoys a successful radiology career in southwest Virginia.
Building a Successful Radiology Career in Southwest Virginia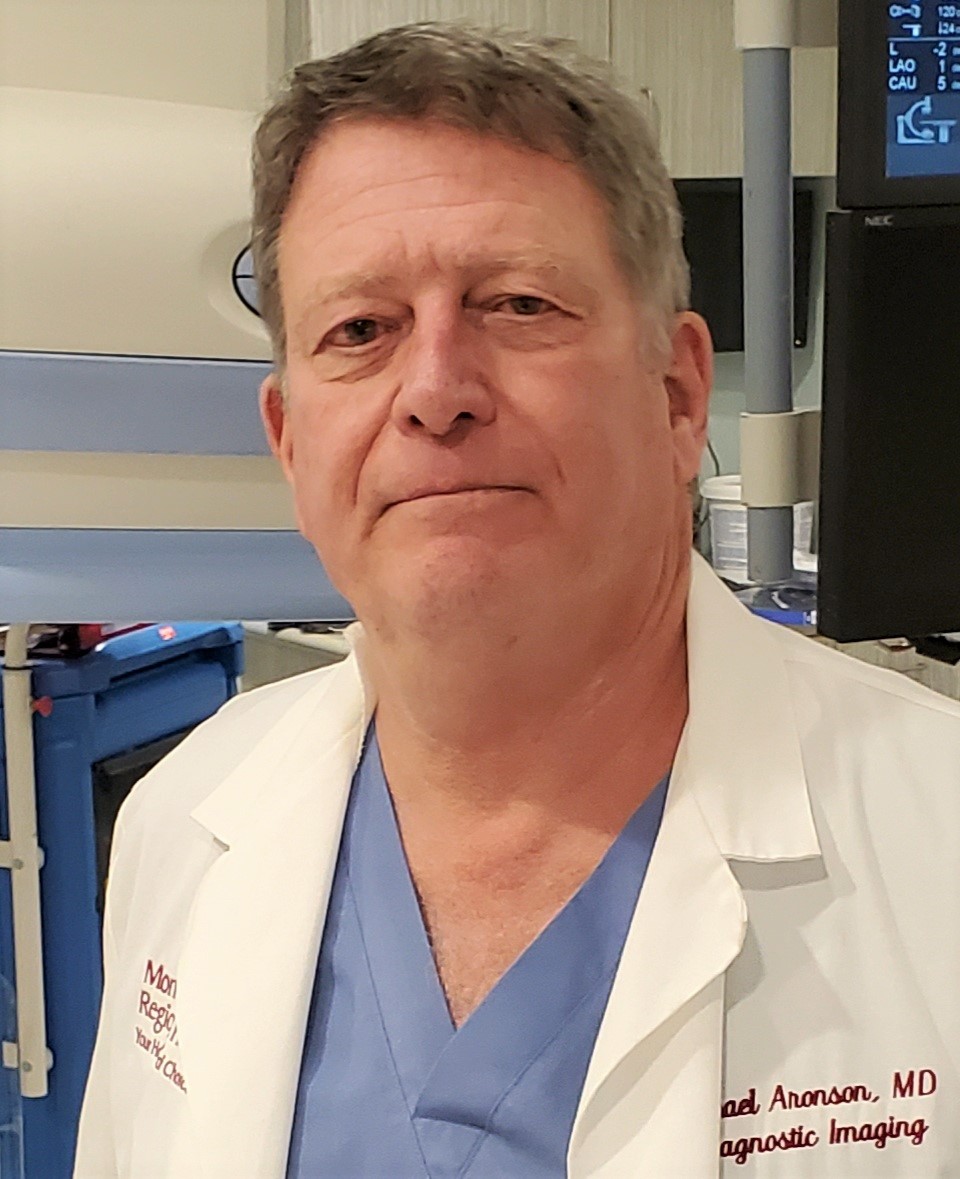 Based out of Blacksburg, Virginia, Dr. Mike Aronson works with a radiology group that provides medical imaging for the HCA Virginia LewisGale Medical system. There are four hospitals, all located in southwest Virginia serving Alleghany, Montgomery, Pulaski, and Salem. The region has vastly different communities, which is reflected in the diverse patient base. Aronson notes, "The medical staff at the hospitals are just great people and everyone communicates really well." This makes for a good patient experience and a great working environment.

Dr. Aronson is also an assistant professor at the Edward Via College of Osteopathic Medicine, a medical school on the campus of Virginia Tech. "It's nice for me to be able to teach. I just like having an influence on these kids' lives, and it's fun." adds Aronson. He also likes to channel talented medical students interested in radiology towards a rotation with VCU Radiology, and some of his students have even gone on to train and work at VCU Health.

(Photo of Mike Aronson, M.D. at work. Photo Credit: Mike Aronson)
Aronson Custom Guitars on Stage
"Seeing my guitars on stage is very rewarding." ~ Mike Aronson, M.D.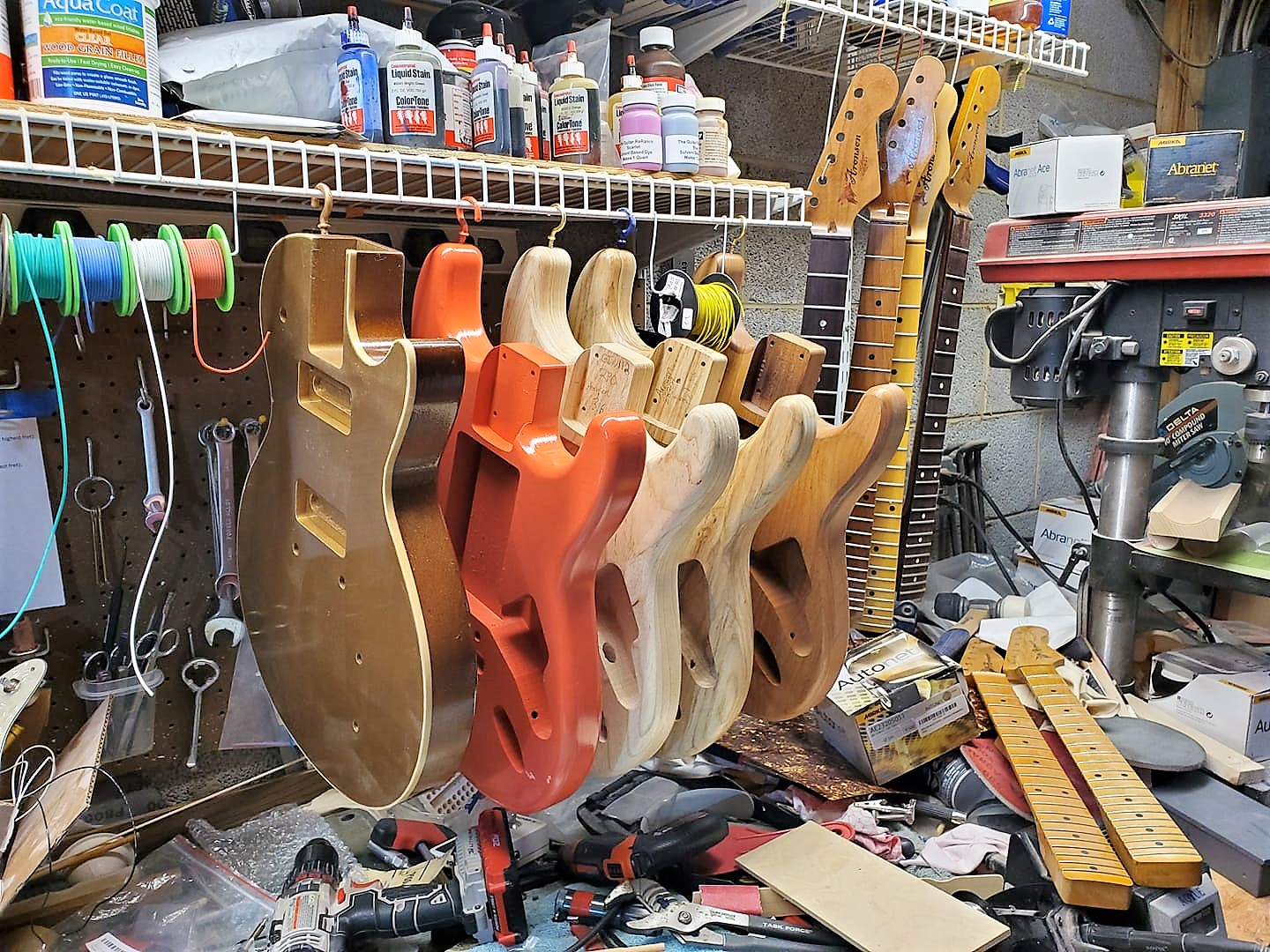 Aronson Custom Guitars are made to meet the individual musicians needs and talents. Following are some of the artists who play Mike Aronson's custom electric guitars:
Willie Brown, Jr., guitarist for American singer-songwriter Alicia Keys, has two custom Aronson electric guitars and a third being built.
Brian Franklin, the guitarist for country music hall of famer, Kenny Rogers
Brian J,

Grammy-nominated producer and musician, and lead for Pimps of Joytime and the world funk project Gitkin
Josh Reedy, lead guitarist for Thomas Rhett, country music singer-songwriter
Redd Volkaert, Grammy Award-winning master guitarist who played with Merle Haggard
Cameron Kimbrough, blues musician and grandson of Mississippi Hill Country Blues legend Junior Kimbrough
Cedric Burnside, Grammy-nominated electric blues guitarist, singer and songwriter, and son of blues drummer Calvin Jackson and grandson of blues singer, songwriter, and guitarist R. L. Burnside
(Above Photo: Several guitar bodies and necks hanging above Aronson's workbench. Photo Credit: Mike Aronson)
Master Guitarist Redd Volkaert Playing His Aronson Guitar
Redd Volkaert
, master guitarist, asked Dr. Mike Aronson to build a custom-made electric guitar. He appreciates the craftsmanship and sound of this guitar, and he loves playing this guitar at live music performances.
Watch Redd Volkaert Play Aronson Guitar Live
Aronson Custom Guitars Encourages Emerging Musician
Inspired by the spirit and incredible talent of nine-year-old musician, Ellen Alaverdyan, Dr. Mike Aronson built her a custom bass guitar with specs from her father. Watch Ellen's reaction when her father surprises her with the new bass guitar from Aronson Custom Guitars.
Watch Ellen Alaverdyan's Reaction
Professional Musicians Rave About Aronson Guitars
"I'm amazed at the playability of Aronson Custom Guitars and I almost exclusively play his guitars. Upon meeting him; seeing and feeling the quality of his work, I was totally sold." ~ Willie Brown Jr., guitarist with Alicia Keys
"I got one of Mike's guitars custom-made for me several years ago, and it is without a doubt one of the best playing and sounding guitars that I have ever owned. When the guitar was delivered, I opened the case and I was amazed at the technical skill involved in making such a beautiful instrument." ~ Redd Volkaert, master guitarist
"I love my Aronson guitars. I've put tons of miles on them and they just get better with age. Mike was so accommodating in creating instruments that fit my aesthetic. My Aronsons' are all over the albums I make and they are among my all time favorite road axes." ~ Brian J of Pimps of Joytime and Gitkin
Restoration Of A Legend's Guitar
Dr. Mike Aronson recently had the honor to restore one of Danny Gatton's guitars - a guitar the legendary musician had since 1956 when he was nine years old until his suicide in 1994. The restoration was doubly important to Aronson, as he is a fan of Gatton's music and it was for Gatton's daughter.
Gatton, a master of the Fender Telecaster®, was known by other guitarists as "The Humbler" and he was dubbed "The World's Greatest Unknown Guitarist" by Guitar magazine. Mike has been listening to Danny Gatton since a teenager so the opportunity to work on a legend's guitar was surreal. Restoring this priceless guitar back to it's previous, well-used glory was a monumental and memorable occasion.
(Photo: Danny Gatton's guitar during the restoration process. Photo Credit: Mike Aronson)
Danny Gatton Music Facebook
Aronson Custom Guitars Fills A Musical Void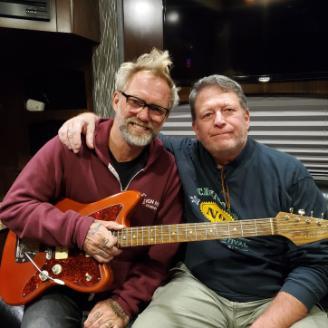 In 2019, Dr. Mike Aronson reached out to Anders Osborne after finding out that Anders' three favorite guitars were stolen while on tour. As a guitarist, collector and aficionado, Aronson immediately reacted to the news by offering Anders one of his custom guitars - hoping to keep Anders' tour on track.

Anders Osborne is an award-winning New Orleans Songwriter. The stolen guitars included a1968 Fender Stratocaster, 1974 Gibson Les Paul and 2017 custom Les Paul. Visit the Anders Osborne website to learn more about the musician.
(Photo: Anders Osborne with his new guitar and Aronson (right). Photo Credit: Mike Aronson)
Mike Aronson, M.D. On Stage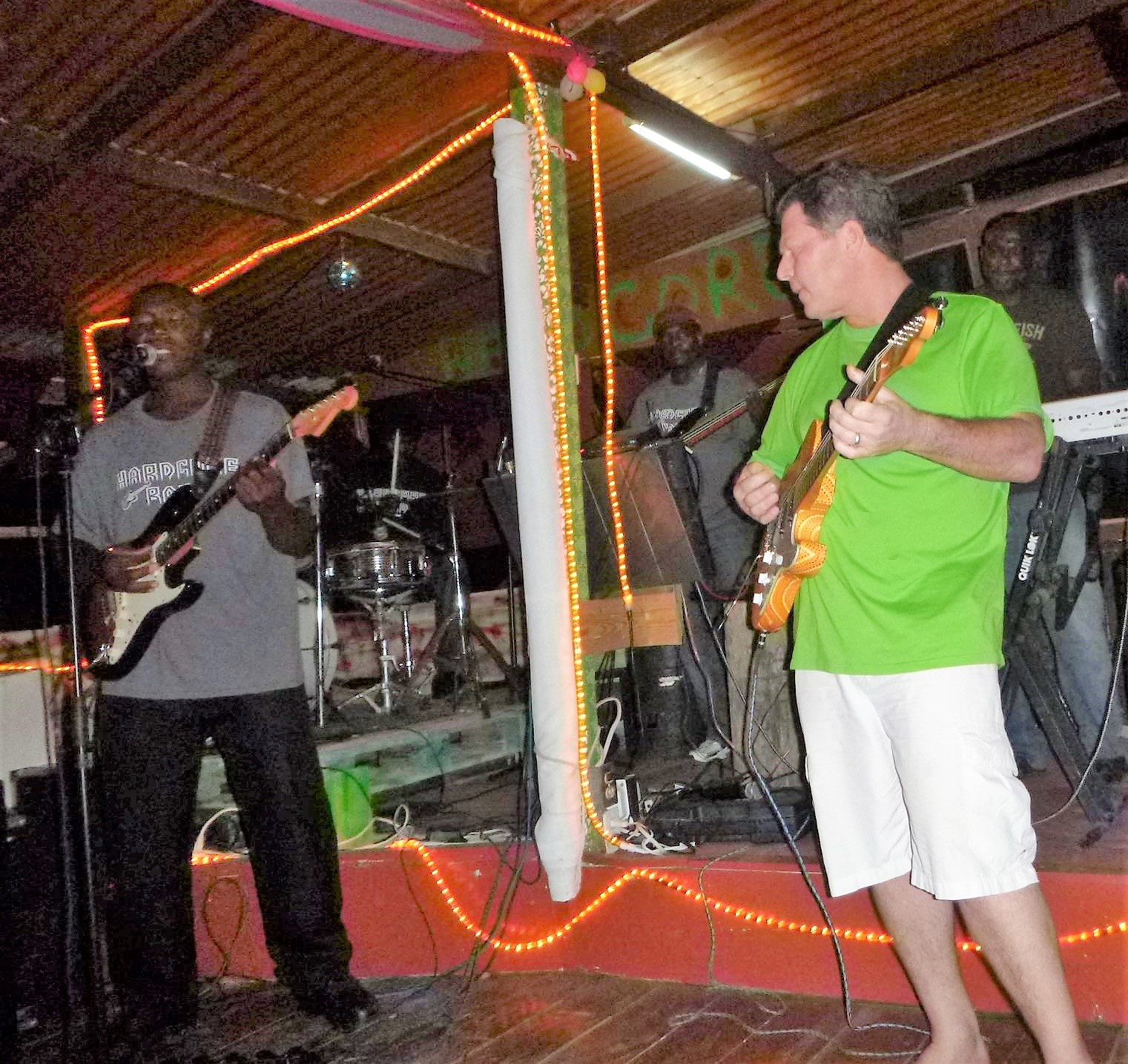 Dr. Mike Aronson is the lead guitarist for Vinyl Tap, a Virginia-based band that plays mostly covers originally released on vinyl records. The band covers several artists, including favorites from Grateful Dead and Tom Petty. The band draws big crowds and the members are looking forward to booking post-pandemic gigs around Virginia.
Dr. Aronson likes to jam with local musicians and he is often welcomed on stage to play with other bands. Aronson (right) is seen here playing one of his custom guitars with a reggae band in Antigua. His very special custom guitar was hand painted by his wife, Jane. (Photo Credits: Mike Aronson)
Aronson Custom Guitars
Feedback and Comments Welcome
Contact raddept@vcu.edu with feedback or to be featured in the VCU Department of Radiology Alumni Insights newsletter.
Find, follow, like and share the VCU Department of Radiology Facebook (opens in a new window) where we share news from the world of radiology and our Department.
The VCU Department of Radiology assumes no liability or responsibility for incorrect or incomplete information. ©2021 VCU Department of Radiology. All rights reserved. Any form of reproduction of content is strictly prohibited.