Profile of Scott S. Coyne, M.D.
From Radiology Resident to Chief Surgeon and Medical Director: A Career Dedicated to Saving Lives
Lifelong Teacher Goes Above and Beyond to Save Lives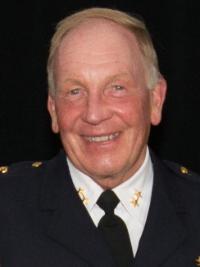 Scott S. Coyne, M.D., H '81, was 16 years old when he suddenly lost his father to a heart attack. Left with intense feelings of grief, he took solace in the healing power of the family's priest. Inspired by his priest, he decided to go to seminary but after five years his career aspirations changed and he began exploring a medical profession.

He took a leap of faith and began taking pre-med classes and eventually earned acceptance into medical school, all the while moonlighting as a police officer. During his fourth year externship, he fell in love with radiology and he went on to complete his diagnostic radiology residency at the Virginia Commonwealth University (VCU). He stayed on as a faculty member for one year before moving back to Long Island, New York to be closer to family.

Dr. Coyne excelled in his role as a radiologist and soon became Radiology Chair at Glen Cove Community Hospital (now part of Norwell Health). Within months of accepting the promotion, he found himself at the Avianca Flight 052 crash site as the first physician providing triage and life-saving care. In the public spotlight, many took notice of Coyne and he eventually joined the Suffolk County Police Department (SCPD) as the Chief Surgeon and Medical Director.

His role with the SCPD expanded and soon he developed collaborative programs and new teaching methods that focused on saving the lives of injured police officers under fire. His work and programs have received numerous national and state commendations and recognition. Coyne's career trajectory is unique, but let's go back to his years in the seminary to learn more about his journey.

(Header image features Dr. Coyne working as a police officer standing to the right of a boy who fell out of a tree and broke his leg. Portrait image features Dr. Coyne. Photos courtesy: Scott Coyne, MD)
From Seminary to Medical School, A Journey to Remember
After high school, Dr. Scott Coyne went to St. Pius X and Cathedral College Seminaries of the Diocese of Rockville Centre, NY graduating with a B.A. in philosophy and moving onto major seminary. With medical school in his sights, he joined the Lloyd Harbor Village Police Department to help pay for his education. He remained a police officer for eight years and throughout medical school.
Dr. Coyne took no science classes in high school or college but he did have early exposure to medicine. Many of his parents' friends were doctors and, as a teen, he would accompany them to the hospital to observe what they did. At first, he was a bit intimidated but Coyne was mesmerized and appreciated the skills and kindness of the physicians.

"...after a few years in seminary the desire grew stronger to become a doctor. It created a tremendous challenge to choose the right path – medicine or priesthood. Eventually I made the very difficult decision to make a huge life change and to pursue medicine," says Dr. Coyne.

Fearing that he didn't have the aptitude for science, he spoke to his spiritual advisors who reminded him of his value to the priesthood as well as the risk of pursuing a medical career without a science background. However, his advisors didn't totally discouraged him. During the next few months, Coyne drove up and down the northeast coast in search of a nod of assurance that becoming a physician was, indeed, possible.

He spoke with advisors at Manhattan College and Georgetown University who gave him a slim chance of success. However, the advisor at C.W. Post of Long Island University saw Coyne was a seminarian and a police officer and thought he would be able to finish his pre-med requirements and have a good chance getting into medical school. With that assurance, Coyne enrolled at C.W. Post.
A Road Trip from Long Island and Back Again
Dr. Scott Coyne's perseverance paid off, as he graduated from C.W. Post and went on to SUNY Downstate College of Medicine. During his fourth year of medical school he went to Moses Cone Medical Center in Greensboro, NC for an externship in internal medicine and family practice. There he developed an interest in radiology and notes, "I realized that our clinical team always ended rounds in radiology. Radiologists seemed to have all the answers to the questions we had about our patients."

Dr. Coyne returned to SUNY Downstate and completed a month-long round in radiology learning from the world-renowned radiologist, Lucy Frank Squire, M.D. She guided him to choose a strong radiology residency program and was delighted he matched with the VCU School of Medicine, Coyne's first choice.

"There was this unspoken chemistry. I knew it was the place for me and it certainly was. It all fit. I fit. I just loved it," says Dr. Coyne. His fondest memories were going to class with his fellow residents and going to work in the West Hospital. He adds, "The four years of exceptional teaching really paid off, especially learning from Drs. Mary Ann Turner, William "Buck" Brewer, Melvin Fratkin and Jaime Tisnado."

Prior to completion of his residency at VCU, Frederick Vines, M.D., Diagnostic Radiology Division Chair, and Michael Beachley, M.D., Department of Radiology Chair, offered him a faculty position. He joined the faculty but after a year he grew homesick and took a position at the Glen Cove Community Hospital in Nassau County, NY.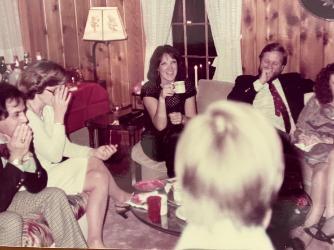 Instilled with knowledge and skills from his training at VCU, he quickly earned the respect of all who worked with him at Glen Cove Community Hospital. In 1982, he began doing interventional radiology procedures. Dr. Coyne remembers, "I went from reading radiology studies to doing biopsies of the lungs, kidneys and spine. I developed the aptitude and I couldn't even believe I was one of a few interventional radiologists on the North Shore at that time." While advancing the interventional radiology program at Glen Cove, Coyne and his wife, Ruth, welcomed daughter Kristen and then Susan into their family. A few years later in 1989, he earned a promotion to Chair of the Radiology Department.

(Photo features, left to right, Drs. Jaime Tisnado, Christine Llewellyn, Mary Ann Turner, and Buck Brewer at a farewell party for Dr. Scott Coyne. Photo courtesy: Scott Coyne, MD)
A Foggy Night in January
Soon after becoming the Radiology Chair, Dr. Coyne unexpectedly found himself at the Avianca Flight 052 crash site on the foggy night of January 25, 1990. The Boeing 707 jet, heading to New York from Columbia with 149 passengers and 9 crew members, ran out of fuel and crashed in Cove Neck, NY only miles from Coyne's home. The evening unfolded in the most dramatic way with Coyne passing the crash site and being asked to help survivors. He was the first physician on site performing triage and providing urgent medical care.

Dr. Coyne, watching television with his wife, heard a low flying jet overhead. They thought it was unusual but it didn't alarm them. Thirty minutes later, the phone rang and it was the nursing supervisor at Glen Cove Community Hospital informing him the hospital was activating its disaster plan. They needed him to come to the hospital and coordinate radiology operations for a mass casualty incident (MCI).

En route to the hospital, he came up to a roadblock and a police officer who noticed Dr. Coyne's "M D" license plate asked, "Are you a doctor? We need doctors." Coyne remembers, "I turned pale because I realized I was in the middle of a major situation." Officers rushed him to the downed jet. Coyne says, "There it was, this big orange jet plane tail in the woods. There was no raging fire yet no time to think." A handful of officers and firefighters began extricating passengers from the wreckage and bringing them to Coyne for triage. He also rendered care to survivors most of who experienced blunt force trauma.

Still the only physician at triage, he recognized there was a delay in transporting survivors to hospitals. He learned that heavy fog grounded medevac helicopters, the only road to the crash site became blocked with the primary surge of emergency response vehicles, and radios choked with constant emergency chatter. Further complicating matters, most of the surviving passengers spoke only Spanish and Coyne had limited fluency.

Desperate for assistance and supplies, he asked anyone with a radio to contact nearby hospitals but they couldn't get through. Finally, an EMT handed a radio to Dr. Coyne and asked him to try. "I just picked up the mic and said, 'This is Doctor Scott Coyne. I'm from the Glen Cove Hospital. I'm at the scene of a commercial jet crash…' I rattled off a list of supplies we needed but nobody answered my transmission." A full house of medical staff in the Glen Cove emergency room heard Dr. Coyne over the ER MedCom speaker and a team of surgeons with supplies responded.

Racing through Nassau County in police cruisers, the surgeons made their way to Oyster Bay. Due to the clogged road, they were forced to walk the last mile carrying supplies. Dr. Coyne remembers, "My goodness, when I saw the team arrive I felt overwhelmed with emotion and immensely relieved." Coyne quickly assigned the doctors to different patient areas. Eventually the helicopters arrived to airlift survivors and ambulances transported the rest of the injured passengers to nearby hospitals.

Dr. Coyne returned home by dawn. With the previous night's experience on his mind, he was unable to sleep. He got up and went into work, walking straight into an international media frenzy: press conferences, interviews on NBC, CBS, ABC, and CNN, and special features in The New York Times and Newsday. Coyne was at the center of it all but says, "All the rescuers, myself included, just wanted to do what we were trained to do. Being cast into the media sensation was somewhat overwhelming."
From Catastrophes Come Career Changes
The Chief of Department for the Suffolk County Police Department (SCPD) recognized Dr. Coyne's capabilities and offered him the Chief Consulting Surgeon position, a voluntary role that focused on occupational medicine and developing the Medical Evaluation Bureau. He accept the new position while continuing as Chair of Radiology at Glen Cove Community Hospital. In 1991, he and Ruth expanded their family with the birth of their son, Stephen.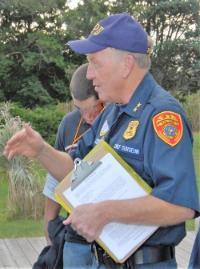 In 2001, he became Chair of Radiology at St. Catherine of Siena Medical Center in Smithtown, NY. Months later, the United States faced the terrorist attacks of September 11th (9/11). After reviewing the emergency response to 9/11, the Suffolk County Police Commissioner and Chief of the Department realized that federal assistance takes at least 24 hours for mass casualty incidents (MCIs). They wanted to do better and, in 2003, offered Coyne a full-time opportunity as Chief Surgeon and Medical Director. Coyne took the position and subsequently developed emergency medical protocols and response operations for MCIs.

In 2008, Dr. Coyne worked with several law enforcement organizations to develop and train a team of paramedic and critical care certified police officers called the Suffolk County Medical Crisis Action Team (MedCAT). A first of its kind, this medical SWAT team of specially trained police officers provides critical care and advanced life support to victims during active shooter, bomb blast, radiation, and infectious disease incidents.

Additionally, Dr. Coyne created a unique program that broadened the EMT training of Suffolk County Police Officers. He also introduced a novel program that equips all patrol officers with combat tourniquets and quick clot kits, as blood loss is the leading cause of death in emergency medical situations. Today, quick clot and tourniquets are standard protocol for EMTs in the State of New York.

Dr. Coyne continues to develop programs for the SCPD. In fact, he created Suffolk County's Narcan program where officers administer the drug to reverse opiate overdoses. He later introduced an awareness program called, "The Ugly Truth" to educate the public about opiate abuse and overdose. Pre-pandemic, Coyne was invited to join the Stony Brook University emergency medicine faculty and during the COVID-19 pandemic, he guided the infectious disease training of police officers and acted as medical supervisor at local COVID-19 vaccination centers. Importantly, he continues to train police officers, recruits, and first responders in mass casualty incidents and active shooter scenarios.

(Photo features Dr. Coyne during training. Photo courtesy: Scott Coyne, MD)
Special Recognition for Life-Saving Service
2010: The New York Governor appointed Dr. Scott Coyne as a member of the New York Correction Medical Review Board.
2015: The International Association of Chiefs of Police (IACP) presented the SCPD MedCAT with a Unit Citation at the 122nd Annual IACP Conference and Law Enforcement Education and Technology Exposition. (Right photo Dr. Coyne with the Unit Citation. Photo courtesy: Scott Coyne. MD)
2016: Dr. Coyne received the Physician of Excellence award by the New York State Department of Health and EMS Council.
2017: The United States Attorney General, the National Law Enforcement Memorial Fund and the Department of Justice honored both Dr. Coyne and MedCAT officers with a Valor Award.
2018: Dr. Coyne presented, "Active Shooter – Mass Casualty Officer Tactical Medical Care: Officer and Victim Survival" at the Police Physicians Section of the International Association of Chiefs of Police Annual Conference.
2019: Dr. Coyne received an outstanding achievement certificate in support of the White House Medical Unit and the President of the United States.
2020: The Department of Justice invited Dr. Coyne to testify before the special U.S. Presidential Commission on Law Enforcement and the Administration of Justice in Miami, FL.
Feedback and Comments Welcome
Contact raddept@vcu.edu with feedback or to be featured in the VCU Department of Radiology Alumni Insights newsletter.
Find, follow, like and share the VCU Department of Radiology Facebook (opens in a new window) where we share news from the world of radiology and our Department.
The VCU Department of Radiology assumes no liability or responsibility for incorrect or incomplete information. ©2022 VCU Department of Radiology. All rights reserved. Any form of reproduction of content is strictly prohibited.