Profile of Stephanie Spottswood, M.D., M.S.P.H.
A Leader in Diversity, Equity and Inclusion, Spottswood Creates Opportunity for the Next Generation of Radiologists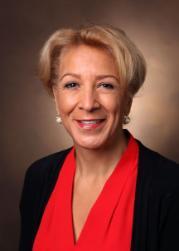 Stephanie Spottswood, M.D., M.S.P.H., came to VCU School of Medicine in the 1990s to complete a pediatric radiology fellowship. She stayed on as faculty for several years before bringing her expertise in pediatric radiology to the Eastern Virginia Medical School (EVMS). After two years at EVMS, she was recruited to the Monroe Carell Jr. Children's Hospital at Vanderbilt to practice pediatric radiology and serve as the Chief of Pediatric Nuclear Medicine, and later, to serve as the Department of Radiology's first Associate Vice Chair for Diversity, Equity and Inclusion (DEI).
Spottswood is intelligent, ambitious and deliberate, and from early on, she was poised for success. In addition to advancing her knowledge of pediatric radiology, she made it her mission to improve access for women and underrepresented minorities in radiology.
Spottswood, now retired and an Emerita Professor of Radiology at Vanderbilt University, continues to mentor women and inspire leaders of DEI across the country.
A Circuitous Journey to Chief of Pediatric Nuclear Medicine
Spottswood earned a bachelor's degree from the University of Michigan and went on to earn her Master of Science Degree in Public Health with a concentration in Industrial Hygiene. When she graduated, she was one of 6,000 industrial hygienists in the United States. She then worked for the National Institute for Occupational Safety and Health (NIOSH), the research arm of the Occupational Safety and Health Administration (OSHA). She was part of a team that would go into industrial workplaces, measure the composition of toxic materials present in the air, and publish scientific reports on how to best mitigate the effects of those materials on the workers. "This was in the 1970s, a time when a lot of people were being exposed to noxious dusts, fumes, mists, vapors, coal dust, asbestos, pressure extremes and temperature extremes. We were learning how chemicals affected worker health. I found that I was more interested in the workers and their health," says Spottswood. "I wanted to become an occupational physician to advocate for those workers who were exposed to toxic materials in the workplace."
Spottswood entered medical school and earned a Doctor of Medicine from the University of North Carolina. She had intended to become an occupational physician but once she had exposure to radiology, her focus changed. "I was doing my internship when several patients came in and presented with very unusual symptoms that were not diagnosed by laboratory tests. They were diagnosed by radiologic studies and I was immediately fascinated by the field of radiology. I thought, this is what I really want to do."
Spottswood entered the radiology residency program at Vanderbilt in 1987 as the first person of color. She adds, "There were no faculty of color and no other residents of color during my entire time in the program." In 1991, she completed her radiology residency at Vanderbilt University Medical Center and ultimately chose pediatric radiology as a subspecialty with clinical and research interests in pediatric gastrointestinal nuclear scintigraphy.
Spottswood liked that pediatric radiologists have to be competent in all the imaging modalities - plain films, fluoroscopy, CT, MRI, ultrasound, and some interventional procedures. Spottswood adds, "I learned all the modalities and I wanted to continue to maintain competence in all of these areas. Even better were the pediatricians who came to radiology to look at their patients' films -- they were just so nice, and I enjoyed working with kids, it was exactly right for me."
In 1992, she completed her fellowship training in pediatric radiology at the VCU School of Medicine. She stayed with VCU as a faculty member for several years then worked at EVMS for two years. In 2005, Vanderbilt built a freestanding, state-of-the-art facility, the Monroe Carell Jr. Children's Hospital. The radiology department needed a pediatric radiologist for their expanded services and Spottswood was at the top of the list. She had earned Certificates of Added Qualification in both nuclear radiology and pediatric radiology, which made her one of the few pediatric nuclear medicine specialists in the country. "It was a smart career move but it was also a really incredible opportunity to improve the health of children in Tennessee." She relocated to Tennessee and became chief of pediatric nuclear medicine at Vanderbilt where she practiced until her recent retirement.
Creating Opportunities for Women
While at VCU, Spottswood joined Wendy Klein, M.D., in developing a career development program for women. The idea of the program initially came from Klein and "what many people don't know is that in the early 1990s, we started this program at VCU School of Medicine because we saw an alarming discrepancy and disparity between women and men in the upper ranks of medicine," adds Spottswood.
Women received the same exceptional clinical training as men but there was not yet a foundation in place to support the career development of women. Spottswood says, "Women just did not seem to be getting promoted at the same rate as men. Women were not aware of the promotion and tenure guidelines. Our goal was to address the disparities that deterred and disadvantaged women. As I was learning my way, I wanted to help women avoid the kind of mistakes and pitfalls I found myself maneuvering during my career." Spottswood's involvement in the career development program for women was pivotal and with the encouragement of her mentors, she learned what she needed to do to succeed.
Career Investments Pay Lifetime of Dividends
In 2012, Reed Omary, M.D., M.S., joined the Department of Radiology at Vanderbilt as their new Chair. He was interested in advancing DEI and asked Spottswood to develop a program. She adds, "Since my time in the residency program, about 15 years had passed before another African American resident was admitted to the program. I really embraced this opportunity to make a difference." In 2013, she became their first Associate Vice Chair for Diversity, Equity and Inclusion. She was responsible for increasing the representation of women and underrepresented minorities in the radiology residency program, promoting DEI among staff and faculty, as well as improving health equity for their diverse patient population.
Spottswood began her research of radiology-specific DEI programs but there weren't any at that time. Undeterred, Spottswood formed a team and developed a multifaceted DEI program. The intent of the program was to increase the diversity of the applicant pool, and they hoped it would have a secondary effect of increasing the diversity of the radiology residency.
Spottswood says, "We created holistic screening tools for reviewing residency applications and we developed a more diverse recruitment committee. We updated everything from website design and advertisements to giving medical students early access to radiology. We made applicants aware that our department was interested in diversifying itself and we encouraged students to come and take a look at our culture and what we do."
Within four years, the applicant pool of women and underrepresented minorities increased -- from 7.5 percent to 13 percent for underrepresented minorities. By 2018, the number of enrolled residents also diversified going from zero to 20 percent. In 2019, when the national average of minorities in residency programs was about eight percent representation, Vanderbilt had 25 percent -- five years after the start of the program.
Beyond the data, the real reward of DEI in radiology is that patients and students see themselves in clinicians and faculty. Spottswood says, "Patients who can relate to their physicians because they are the same culture, the same ethnic group, or the same religion are more likely to follow instructions and ask questions. They are more likely to trust and say that they are satisfied with the care."
Unconscious Bias in Medicine
Unconscious bias, also known as implicit bias, overshadows decisions and actions, and can influence the treatment of patients. A learned attitude or assumption, bias exists in our subconscious. It stems from constant exposure of biased content in news, TV, books, social media and even one's upbringing.
The medical community has recognized that unconscious bias affects the quality of patient care. Recognized for her expertise in this area, Spottswood speaks on the subject matter both nationally and internationally. "Doctors, nurses, and other health care professionals are exposed to the same types of negative images and stereotypes about certain cultures and ethnic groups. It's imperative to teach the medical community how our unconscious bias unintentionally forms our beliefs and affects the way we treat people. We are not immune, it affects physicians just like everyone else," says Spottswood.
The Important Role of Female Leaders in Radiology
Spottswood, through research and surveys, confirmed that the representation of women in the Vanderbilt Department of Radiology was low. Women held only a few leadership positions and they hadn't achieved the same level of academic success as compared to their male counterparts.
In 2014, Spottswood joined her colleague, Lucy Spalluto, M.D., M.P.H., to develop a program, "Leadership Intervention to Further the Training of Female Faculty (LIFT-OFF) in Radiology." The purpose of LIFT-OFF was to improve women's access to opportunities for faculty development and career advancement. More importantly, they aimed to improve women's understanding of expectations and the path of advancement.
After two years, Spottswood and Spalluto evaluated the program's outcomes and found that 31 percent of female faculty indicated an improved understanding on how to advance into leadership positions. They also found that 52 percent of participants reported that the program improved their access to career advancement opportunities. After five years, several women in the program successfully achieved promotion to new academic ranks and leadership positions.
During the 2021-2022 academic year, women represented 54 percent of residents in the Vanderbilt's radiology residency program while nationally representation was at 29 percent. Additionally, women secured seven full professors, three vice chairs, three program directors and four section chiefs during the same academic year. Spottswood adds, "It was really nice to see those results and they are important because we helped raise awareness about the path to promotion. We now have women in leadership positions who mentor and guide other women. More of our faculty are fulfilled and thriving and it's easier to retain our talented staff."
Their commitment to DEI has garnered national recognition. Other departments at Vanderbilt started emulating the DEI programs, and the medical school updated practices and policies to improve the environment for all medical students. These institution-wide efforts trickle down to patient care. Spottswood is proud of the progress but is aware this is an ongoing effort that isn't finished yet.
Read her published research on the subject of DEI:
A Leadership Intervention to Further the Training of Female Faculty (LIFT-OFF) in Radiology
Design, Implementation, and Evaluation of a Diversity Program for Radiology
Five Years Later: Impact of a Focused Women in Radiology Program
Historically Black Schools of Medicine Radiology Residency Programs: Contributions and Lessons Learned
The Joy of Being a Mentor
As an emerita professor, Spottswood pulled back from clinical work while keeping a strong connection to Vanderbilt. She has also taken up piano and golf. "I used to play golf and tennis with Dr. Mary Ann Turner even though I was never a great golfer. Since picking it back up, I've taken my golf game up a notch but I think Dr. Turner can still beat me."
Spottswood is still a mentor, teacher, and unconscious bias trainer. Mentorships may be her true passion and when asked to be someone's mentor, "I always say yes because I remember back when I was a trying to get through my education and advance my career. There were some things that no one ever told me and I didn't really know where to put my energy. I learned the hard way and I just want to pass this knowledge on to my mentees."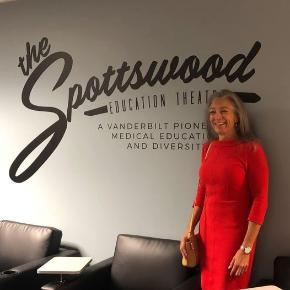 For her lifetime of contributions, Spottswood has received numerous awards and honors. She earned several Faculty Achievement Awards from the Vanderbilt University Minority Faculty organization and the Levi Watkins, Jr Faculty Award for her work in diversity and inclusion. In 2016, she received the Margaret Cuninggim Women's Center Mentoring Award and, in 2017, Spottswood became the inaugural Co-Chair for the Society for Pediatric Radiology's (SPR) Committee on Diversity and Inclusion. In 2022, after a career of selfless dedication to radiology education, the Vanderbilt Department of Radiology honored Spottswood with the naming of a new medical education center called "The Spottswood Education Theatre."
Spottswood's interest in creating career and leadership opportunities for women and underrepresented minorities in radiology began at VCU. Her interest quickly evolved into a lifelong passion that has brought her so much joy and satisfaction. Her work continues to inspire leaving a profound impact on the next generation of radiologists and patient care.
(Images feature Dr. Spottswood standing next to the new radiology residency education theatre at Vanderbilt University. Portrait image features Dr. Spottswood. Photos courtesy: Stephanie Spottswood, MD)
Feedback and Comments Welcome
Contact raddept@vcu.edu with feedback or to be featured in the VCU Department of Radiology Alumni Insights newsletter.
Find, follow, like and share the VCU Department of Radiology Facebook (opens in a new window) where we share news from the world of radiology and our Department.
The VCU Department of Radiology assumes no liability or responsibility for incorrect or incomplete information. ©2023 VCU Department of Radiology. All rights reserved. Any form of reproduction of content is strictly prohibited.