Expanding to Better Serve the Community
Expansion Updates
Open since June 1, the VCU Health Emergency Center at New Kent in Quinton, Virginia offers X-ray, ultrasound, and computed tomography (CT). Sheltering Arms Institute in collaboration with VCU Health opened June 13 with our X-ray, fluoroscopy, and ultrasound services available.
Phase one construction of Main 3 remained active during the COVID-19 pandemic so we are thrilled to be in a new Gastrointestinal (GI) reading room and new ultrasound procedure room. As the plan progresses, we will be occupying additional offices and an interventional radiology hybrid suite by August. Our second floor expansion in West Hospital is also on its way, and by this fall will offer us much needed faculty and administrative space.
We are looking for a December 2021 opening of the Adult Outpatient Pavilion in downtown Richmond where we will have CT, magnetic resonance imaging (MRI), fluoroscopy, ultrasound, and mammography services. As we look to the horizon, we anticipate the new inpatient Children's Hospital to open spring of 2022. The new Children's Hospital is adjacent to the current outpatient Children's Pavilion on the VCU Medical Center campus, and we will have emergency medical imaging that includes pediatric CT and MRI capabilities.
Follow the link to learn more about VCU Health Building Projects.
VCU Department of Radiology Expands to VCU Health Emergency Center at New Kent
The VCU Department of Radiology offers advanced medical imaging, including digital X-ray, ultrasound and computed tomography (CT) at the VCU Health Emergency Center at New Kent, now open.
Learn more about the VCU Health Emergency Center at New Kent
New Residency Training Pathway
Our integrated interventional radiology / diagnostic radiology (IR/DR) residency program received approval from the Accreditation Council for Graduate Medical Education (ACGME). As of May 2020, we are one of 89 institutions with ACGME accreditation for this new training pathway. The VCU Department of Radiology is now fully accredited for both our Independent and Integrated interventional IR/DR residency programs.

The integrated IR/DR residency program is one of the most competitive training pathways to match into across all medical specialties, and the program reflects the significant clinical value of interventional radiology. The integrated training pathway is an exceptional addition to our medical education programs, as it amplifies our strategy to offer competitive educational opportunities with the goal of attracting and retaining high-performing medical students.

There is a great deal of interest in both interventional and diagnostic radiology from medical students, and we are extremely enthusiastic about this program going forward. Graduates of our program will have the highest level of proficiency in interventional radiology clinical techniques.

Beginning this year, and on an annual basis, we will match two residents directly out of medical school into our integrated IR/DR program through the National Resident Match Program (NRMP). We will also match residents every year into our traditional DR residency program. The number of residents we match into our DR residency program depends on the size of the class.

Visit our Integrated Interventional Radiology Residency Program webpage for more information.
Welcome Our New Residents
Meet our incoming class of residents who are in the midst of orientation. The class is comprised of nine residents from six medical schools. Click on the portraits to learn more about our first-year residents.
Welcome Our New Fellows
Welcome our new fellows who are quickly getting acquainted to our facilities and team members. Click on the portraits to learn more about our fellows.
Celebrate Our Recent Graduates
We have experienced so much with our recent radiology residency and fellowship graduates, and we are thankful they were here making us stronger during the COVID-19 pandemic. We are proud to call them family and wish all our graduates the best of luck.
Radiology Residency Graduates
Reza Amerinasab, M.D.
Wali Danish, M.D.
Samarth Gola, M.D.
Lynn Ivey, M.D.
Soobin Kang, M.D.
Shervin Mirshahi, M.D.
Avinash Pillutla, M.D.
Eric You, M.D.
We are pleased to announce that Avinash Patel, M.D. and Wali Danish, M.D. are continuing on with us, as part of our independent interventional radiology residency program, and Reza Amerinasab, M.D. and Lynn Ivey, M.D. are both staying with us as fellows.
Radiology Fellowship Graduates
J.Britt Groseclose, D.O.
Christina Miller, M.D.
Alex Munoz, M.S., M.D.
Perry Myrick, M.D.
Nathan Ogden, M.D.
Visit our Recent Graduates webpage to learn more about their career journeys in radiology.
Josephina A. Vossen, M.D., Ph.D. Receives Promotion to Associate Professor
The VCU School of Medicine awarded Josephina A. Vossen, M.D., Ph.D. a well-deserved promotion to Associate Professor. Dr. Vossen is a musculoskeletal (MSK) radiologist who serves as Director of the radiology residency education program, Associate Director of the integrated interventional radiology residency program, and MSK Medical Director at VCU Health Stony Point.
In 2019, Dr. Vossen received the The Irby-James Award for Excellence in Clinical Teaching. The award recognizes superior teaching in clinical medicine to students in their last two years of medical school and residency training.
Dr. Vossen joined the VCU faculty in 2016. She became the Musculoskeletal Fellowship Director in 2018 and recently assumed the role of the Radiology Residency Program Director.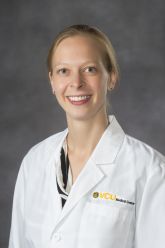 Josephina A. Vossen, M.D., Ph.D.
Associate Professor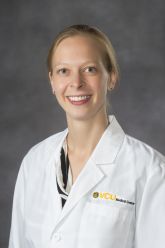 Josephina A. Vossen, M.D., Ph.D.
Associate Professor
Radiology
Associate Professor
Director, Residency Education
Associate Director, Integrated Interventional Radiology Residency Program
Medical Director, MSK, Stony Point Radiology
Phone: (804) 628-1989
Fax: (804) 628-1132
Email: josephina.vossen@vcuhealth.org
Address/Location:
Main Hospital, Room A3M-200P
Give Now
Give Now to the Radiology Resident Fund
As always, the success of our department depends on the support of our friends and alumni. We know this period has caused personal and financial difficulty for many, especially those who are just beginning their careers. But, if you are able to support the outstanding training of our residents then please consider a gift to our Radiology Residents Fund.
Contact raddept@vcu.edu with feedback and comments about the VCU Department of Radiology Image of Excellence newsletter, or to sign up to receive our newsletter via email.
The VCU Department of Radiology assumes no liability or responsibility for incorrect or incomplete information. ©2020 VCU Department of Radiology. All rights reserved. Any form of reproduction of content is strictly prohibited.