Sarah Winks, M.D.
Assistant Professor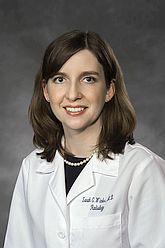 Main Hospital, Room 3-426
Department: Radiology
Phone: (804) 828-5096
Fax: (804) 628-1132
Email: sarah.winks@vcuhealth.org
SPECIALTIES
Abdominal CT and MRI

Prostate MRI

Oncologic Imaging
AREAS OF INTEREST
Abdominal imaging
Prostate imaging
EDUCATION
M.D. – Virginia Commonwealth University, School of Medicine, Richmond, VA
Residency, Diagnostic Radiology – VCU Health, Richmond, VA
Fellowship, Abdominal Imaging – VCU Health, Richmond, VA
BOARD CERTIFICATION
American Board of Radiology.
RESEARCH PUBLICATIONS
Yu J, Fulcher AS, Winks SG, Turner MA, Clayton RD, Brooks M, Li S. Diagnosis of Transitional Zone Prostate Cancer at Multi-parametric Prostate MRI: Pearls, Pitfalls and Mimics. Exhibit presented: Society of Abdominal Radiology (SAR) Annual Scientific Meeting and Educational Course; March 2016, Waikoloa, Hawaii.
Garnett S. Film Review: "Beyond Killing Us Softly: The Impact of Media Images on Women and Girls." Association for Women in Psychology Newsletter. Spring/Summer 2003: 21-22.