Overview
The cardiothoracic imaging section specializes in the diagnosis of diseases and disorders of the lungs, mediastinum, airway, pleura and chest wall, myocardium and coronary arteries. Our fellowship-trained faculty are diagnostic experts in the following:
Critical care

Thoracic trauma

Pulmonary thromboembolic disease

Diseases of the thoracic aorta

Acute aortic syndromes

Interstitial lung disease

Lung and other cancers

Emphysema

Asthma

Chronic obstructive pulmonary disease (COPD)

Transplant complications

Infectious diseases

Occupational lung disease

Congenital and acquired myocardial

Pericardial disease

Coronary artery disease
All imaging is fully digitized on a state-of-art McKesson picture archiving and communication system (PACS). Advanced post-processing modalities include TeraRecon, Vitrea, Syngo.via, WebPAX and CMR42, and hospital RIS access is readily accessible at six megapixel color monitors and workstations. Our department has state-of-the-art imaging equipment including six multiple detector computed tomography (MDCT) scanners, three of which are Siemen Flash scanners, and four 1.5T MRI scanners. These technological advances allow our specialists to be effective consultants for both staff and non-staff physicians serving VCU Health System and three out-patient clinics.
Procedures and Programs
The section interprets approximately 90,000 chest radiographs, 18,000 chest computed tomography (CT) and CT angiography exams and 650 cardiac magnetic resonance (MR) imaging and MR angiogram studies, and performs approximately 150 thoracic interventions annually. These include:
High-resolution computed tomography

CT aortography

CT pulmonary angiography

Cardiac CT angiography

Cardiac MR imaging

Pre-ablation pulmonary vein MR studies

Lung and mediastinal biopsies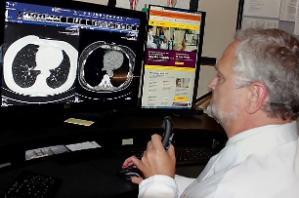 Working in conjunction with the Department of Pulmonary Medicine, Thoracic Surgery and Smoking Cessation, we created the first university-based lung cancer screening program using low-dose chest computed tomography technology in the Commonwealth of Virginia.
Our program, and its multidisciplinary approach, has served as a model for other academic screening programs across the country. The screening program is endorsed by the GO2 Foundation for Lung Cancer as a Center of Excellence.
Learn More about our Lung Cancer Screening Program.
Fellowship in Thoracic Imaging
The thoracic imaging fellowship program
The thoracic imaging fellowship program provides advanced training in all aspects of cardio-pulmonary imaging, enabling fellows to develop specialized skills necessary for a successful career in academic radiology or in a large subspecialty private practice. A one-year fellowship program devoted exclusively to cardiothoracic imaging is also offered.
Research
Both the thoracic imaging and non-invasive cardiovascular imaging specialties have an active clinical research program. Our faculty participates in annual meetings with the American Roentgen Ray Society, Radiological Society of North America, American College of Radiology, and Society of Thoracic Radiology. Fellows are expected to participate in clinical research projects in conjunction with our staff and other clinical services. The VCU Department of Radiology provides administrative assistance and support in preparation of exhibits, presentations and manuscripts. Support is also provided to fellows for presentation of research at recognized major radiological society meetings.
Cardiothoracic Imaging Faculty