Overview
The VCU Department of Radiology's emergency radiology section is an active clinical and academic service. Our radiologists are responsible for the interpretation of emergency imaging at VCU Health and its affiliated Level 1 Trauma Center and comprehensive stroke center.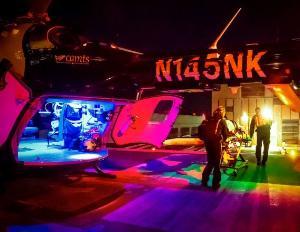 We work closely with the VCU Department of Emergency Medicine and the Division of Trauma and Acute Care Surgery in the VCU Department of Surgery, as well as a number of other clinical services that are involved in emergent patient care. VCU emergency radiologists interpret a large volume of examinations that cover the entire spectrum of traumatic and non-traumatic emergency conditions.
Our Department also offers an emergency/trauma radiology advanced clinical elective for VCU medical students. Medical students rotate through emergency and trauma radiology services, and they are required to attend the daily radiology noon conference. Students have the opportunity to participate in our daily readout with the attendings and residents. They also have access to a PACS workstation to review selected teaching cases at their own pace. In the morning, students can participate in the overnight case readout sessions in other radiology sections such as neuroradiology, abdominal imaging, cardiothoracic imaging, and musculoskeletal imaging and intervention based on their professional preferences. We also provide weekly mini-lectures for specific emergency radiology topics.
Emergency Radiology Exam Procedures
We interpret a wide range of radiological examinations performed through the emergency department, including:
Neuroradiology

Musculoskeletal

Cardiothoracic and abdominal imaging

Plain film radiography

Computed tomography

Magnetic resonance imaging

Ultrasound
Fellowship in Emergency Radiology
The VCU Department of Radiology offers a one-year fellowship in emergency radiology focusing on the full range of imaging in the emergency department setting. The fellowship includes not only imaging of trauma patients but also those with medical and non-traumatic surgical conditions. In addition to time in the emergency radiology section, the fellow will spend time in neuroradiology, abdominal imaging and cardiothoracic radiology, focusing on interpretation and management of ER-related conditions.
Learn More About Our Emergency Radiology Fellowship
Emergency Radiology Faculty