Overview
Advanced prostate imaging is performed through magnetic resonance (MR) imaging, which uses powerful magnets and radio waves to create detailed images of the prostate. Appropriate treatment recommendations for prostate cancer are based on knowing the accurate staging of the tumor. During a non-invasive examination, specialists perform multiple advanced imaging techniques, which when evaluated together, can with a high degree of accuracy detect and locate prostate cancer.
Referring physicians and patients visit Advanced Prostate Imaging at VCU Health for appointment information.
The VCU Department of Radiology's Advanced Prostate Imaging team uses multiple non-invasive advanced prostate MR imaging techniques. These advanced prostate imaging techniques include T2-weighted MR imaging, MR diffusion and dynamic contrast enhanced imaging at our VCU Health 3T MR center. Based on published studies and our own experience, the combination of these techniques produce a high level of accuracy, up to 90%, in the diagnosis of prostate cancer.
T2-weighted magnetic resonance (MR) imaging provides high sensitivity and excellent demonstration of zonal anatomy and pathological processes of the prostate. The internal anatomy of the prostate demonstrates excellent differential soft tissue contrast on T2-weighted images.
The signal intensity of the normal peripheral zone is very high on T2 owing to its higher water content. If the prostate cancer is in the peripheral zone, a low signal intensity focus is always present on T2-weighted image resulting in a high sensitivity of detection.
The specificity of the low T2 signal foci in the peripheral zone is not highly accurate, about 70%, since these low signal foci may be seen in patients with focal infection, inflammation, bleeding or post treatment changes.
Diffusion weighted magnetic resonance imaging is sensitive to the structure of biological tissue at the microscopic level. The cancer lesion often has a high cellularity, more than 30 tumor cell clusters, that limits the movement of water molecules within the lesion. With prostate cancer, a lesion usually appears dark on apparent diffusion coefficient maps indicating diffusion restriction while normal tissue appears bright.
Dynamic contrast-enhanced magnetic resonance imaging (DCE-MRI) is a powerful tool in providing a map of blood flow of prostate gland, which is increased in prostate cancer. In recent studies, DCE-MRI of the prostate gland has been shown to provide excellent enhanced imaging that is useful for both the detection and staging of prostate cancer with the specificity of DCE at approximately 85%.
We are the only site in Virginia that performs advanced magnetic resonance imaging (MRI)-ultrasound fusion-guided prostate biopsies. MRI-ultrasound fusion-guided prostate biopsies overlay two images – one from the MRI, the other from the ultrasound – for an enhanced, highly improved view of the prostate. The advanced fusion procedure provides a clear image of a possible tumor, which can be used to guide the biopsy needle of the prostate.
MRI-ultrasound fusion-guided prostate biopsy allows precise placement of the biopsy needle into the target under direct vision by real time ultrasound which is fused with the pre-existing MRI. MRI-ultrasound fusion-guided biopsy of prostate cancer has been proven to be an accurate tool (positive yield up to 85%) in confirming the diagnosis of prostate cancer. It is particularly useful for patients with prior negative transrectal ultrasonography (TRUS) guided biopsies.
Candidates for systematic biopsy guided with TRUS are patients with prostate specific antigen (PSA) levels greater than 4 ng/mL, suspicious findings at digital rectal examination or a history of negative TRUS biopsies with a concern for cancer.
A study published in 2015 by the Center for Cancer Research found that fusion biopsy is 30 percent more accurate in diagnosing high-risk, aggressive cancers than a TRUS biopsy.
A Transrectal ultrasound (TRUS) biopsy procedure uses sound waves to make an image of the prostate on a video screen in order to guide biopsy needles into the appropriate area of the prostate. Using the ultrasound image, a physician quickly inserts a thin, hollow needle through the wall of the rectum into the prostate gland. When the needle is pulled out, it removes a small cylinder (core) of prostate tissue.
The VCU Department of Radiology's Professor and Director of Oncologic and Prostate Imaging Jinxing Yu, M.D., Assistant Professor Sarah G. Winks, M.D., and other specialized abdominal radiologists are highly trained in advanced imaging techniques and biopsies of the prostate gland. The team works closely with urologists and radiation oncologists to provide the most advanced diagnostic tools for prostate imaging, resulting in more accurate detection of prostate cancers.
Advanced Prostate Imaging Faculty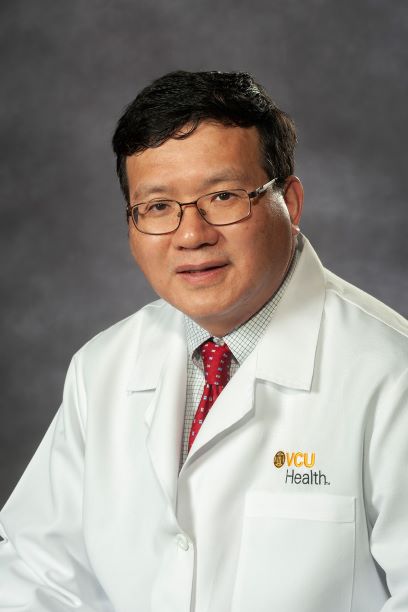 Jinxing Yu, M.D.
Professor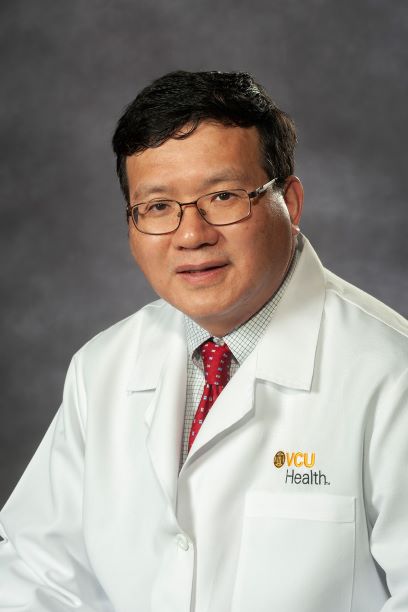 Jinxing Yu, M.D.
Professor
Radiology
Director, Oncologic and Prostate Imaging
Main Hospital, Room 3-446
Phone: (804) 628-0068
Fax: (804) 628-1132
Email: jinxing.yu@vcuhealth.org
Address/Location:
West Hospital, South Wing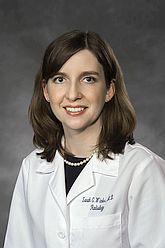 Sarah Winks, M.D.
Assistant Professor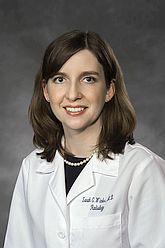 Sarah Winks, M.D.
Assistant Professor
Radiology
Main Hospital, Room 3-426
Phone: (804) 828-5096
Fax: (804) 628-1132
Email: sarah.winks@vcuhealth.org