J. Terry Lim, M.D., Ph.D.
Associate Professor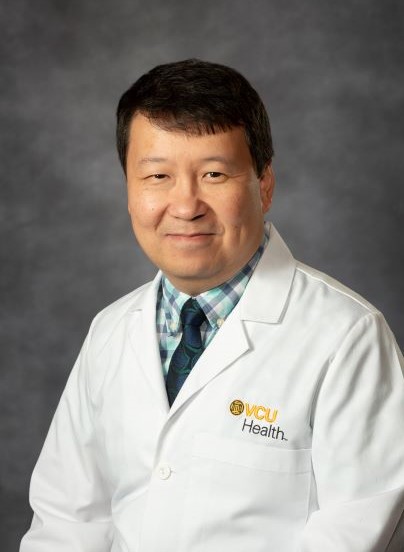 Department: Radiology
Email: jin.lim@vcuhealth.org
SPECIALTIES
EDUCATION
M.D. – University at Buffalo, School of Medicine & Biomedical Sciences, NY
Ph.D. – Columbia University, NY
Internship – Bassett Healthcare, NY
Residency – Emory University, GA
Fellowship – Emory University, GA

ACADEMIC APPOINTMENTS
Associate Professor –Virginia Commonwealth University, School of Medicine, VA - 06/2019 - Present
Assistant Professor - University at Buffalo, School of Medicine & Biomedical Sciences, NY – 5/2016 - 5/2019
PUBLISHED ABSTRACTS
Lim JTE, Weinstein IB (2003). Abstract #R3580. A novel role of CDK6 in androgen receptor signaling pathways. Proceedings of the 94th Annual Meeting of the AACR. Washington, DC.
Lim JTE, Weinstein IB (2004). Abstract #1935. Over-expression of CDK6 in LNCaP prostate cancer cells increase cell growth, colony formation and prostate specific antigen (PSA) expression and secretion. Proceedings of the 95th Annual Meeting of the AACR. Orlando, FL.
Lim JTE, Galt J, Schuster DM, Barron B (2013). Abstract #586. Feasibility of localization of gastrointestinal bleeding with Tc-99m-labeled RBCs by adding a rapid SPECT/CT to standard dynamic imaging. Suppl JNM (2013): 54.2:178. SNMMI annual meeting. Vancouver, Canada.
Lim JTE, Malko J, Halkar R (2014). Abstract #016. Comparison of 24 hour sodium iodide-123 thyroid uptake using gamma camera versus thyroid uptake probe. ACNM/SNMMI Mid-winter meeting. Palm Springs, CA.
Lim JTE, Barron B, Halkar R (2015). Abstract #201507. Localization of parathyroid adenoma after administration of levothyroxine (T4). ACNM/SNMMI Mid-winter meeting. San Antonio, TX.
Lim JTE, Switchenko J, Manapragada P, Obidike C, Li Y, Galt JR, Nooka A, Kendi T (2016). NM229- SD-WEA2. Role of PET parameters in multiple myeloma assessment. RSNA 2016 annual meeting. Chicago, IL.
ORIGINAL, PEER-REVIEWED JOURNALS
Lim JTE, Piazza GA, Han EK-H, Delohery TM, Li H, Finn TS, Buttyan R, Yamamoto H, Sperl G, Brendel K, Gross PH, Pamukcu R, Weinstein IB (1999). Sulindac derivatives inhibit growth and induce apoptosis in human prostate cancer cell lines irrespective of androgen-sensitivity, increased expression of bcl-2 or ability to inhibit cyclooxygenase activity. Biochem Pharmacol., 58:7:1097-1107.
Lim JTE, Mansukhani M, Weinstein IB (2005). Cyclin-dependent kinase 6 associates with the androgen receptor and enhances its transcriptional activity. PNAS. 102(14):5156-5161.
Lim JTE, Joe AK, Suzui M, Shimizu M, Masuda M, Weinstein IB (2006). Sulindac sulfide and exisulind inhibit expression of the estrogen and progesterone in human breast cancer cells. Clin Cancer Res. 12: 3478-3484.Rakshit DS, Lim JT, Ly K, Ivashkiv LB, Nestor BJ, Sculco TP, Purdue PE (2006). Involvement of complement receptor 3 (CR3) and scavenger receptor in macrophage responses to wear debris. J Orthoped Res. 24(11): 2036-44.
Lim JTE, Moncayo V, Alzaraki N (2015). Sodium 18F-fluoride bone scintigraphy in deep ocean diver. Clinical Nucl Med. 40(7): 582-584.
Rodrigue PD, Fakhri AA,

Lim JT

(2016). Scintigraphic diagnosis of intrathoracic splenic implants post splenectomy for gunshot wound. J Nucl Med. Technol. 44(4): 267-268.